Like I promised, more goodies regarding the holidays. YAY! So, for the next few weeks I'm going to be sharing a series of gift guides I've created for both him, her, pets, & even stocking stuffer ideas. To start it off — a gift guide for that leading lady in your life…or maybe that sister that you just can't ever seem to shop for. Ranging from smaller gifts to splurges, this hopefully gives you a few ideas!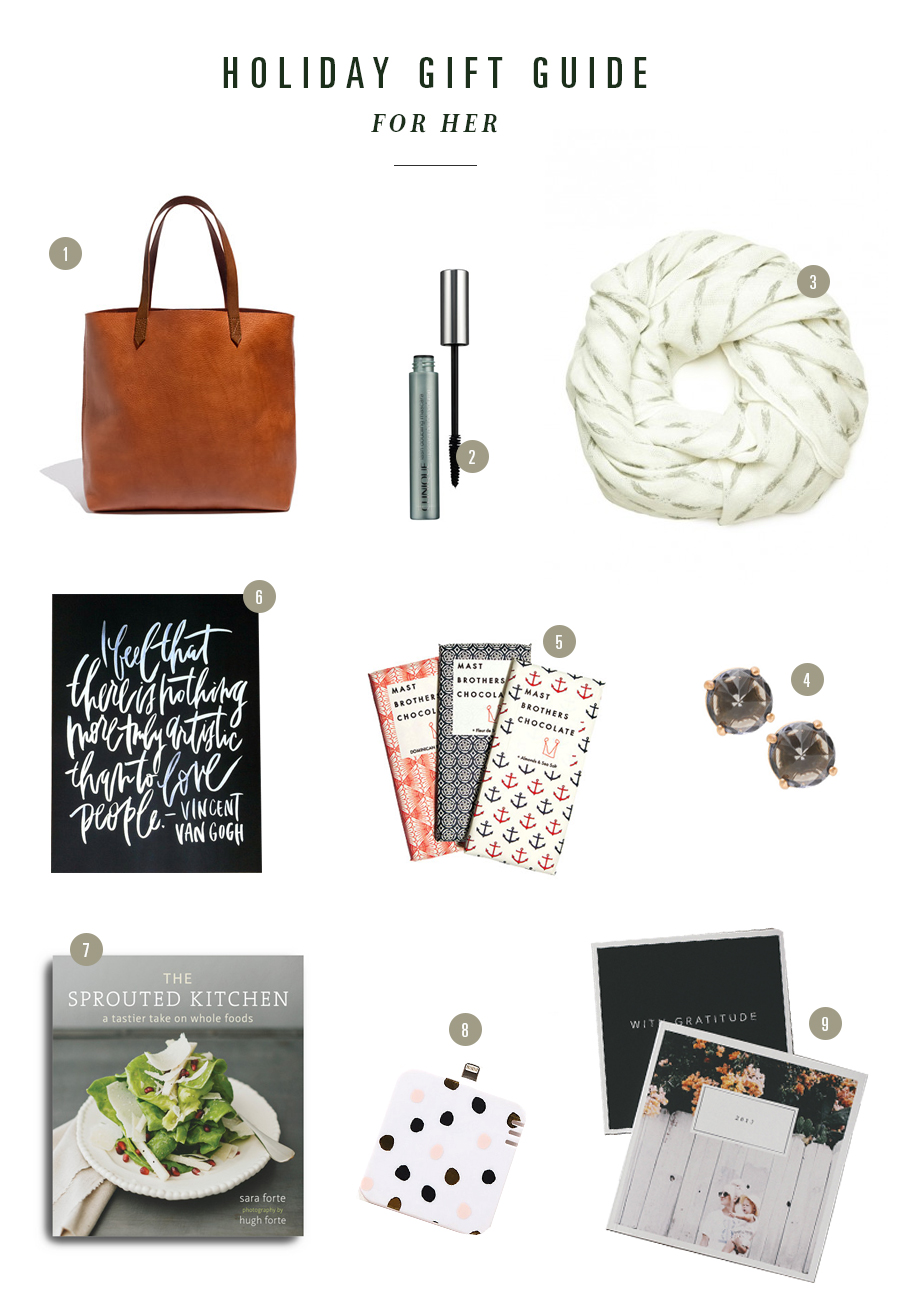 1 // Madewell Leather Tote:  $168 If you're anything like me, you like a good leather product and any sort of bag (I constantly tell myself I need LESS bags and/or smaller ones) but I like carrying the whole world with me wherever I go, so I love a good sized tote. And now ever since getting a dog, I find myself also needing a plethora of things for him as well — carrying a leash & poop bags in style? Sure. This one from Madewell is sure to last years.
2 // Clinique Lash Volumizing Mascara: $16 Before you think it's weird to buy make-up (specifically mascara) for a female in your life, let me introduce you to Clinique's Lash Volumizing Mascara…just the best stuff ever. And with it being a bit more spendy than your typical drug store find, it makes a great gift. She won't be mad, I promise.
3 // Sosie Leonce Scarf: $29 If you're always striking out trying to buy clothing for a gal, try an accessory. Still a great, thoughtful gesture, but not as specific as say a sweater. She's bound to wear it and if you choose a fabric that's a bit more versatile, like this one, you can find her wearing it all year.
4 // JCrew Glass Point Earrings: $30 Cute earrings. Reasonably priced. Diamonds are so 2012. Done and done.
5 // Mast Brothers Chocolate: $40-44 for 5 bars  GREAT, and I repeat, GREAT gift for those women in your life that perhaps are the "perimeter gift receivers"…you know, the people in your life that are important, but you don't want to spend a ton on, especially since you don't know their personality all that well. Your boyfriend's sister? Your manager? The lady that walks your dog? Enter Mast Brothers Chocolate. Yes, I know, it's $40 for the set of 5, but a single chocolate bar goes a long way. Boom, 5 gifts in 1. And they are wrapped in the most well designed, luxurious package and oh, so tasty. Sigh.
6 //  Oh My Deer Print: $12 The thing about us girls is that we love to plaster our walls in pretty things, verses, sayings. Chelsea Petaja is an amazing artist (wife to a phenomenal wedding photography, Tec) and I'm so in love with her prints. This one in particular is my favorite. Give her an 8×10″ framed print!
7 // Sprouted Kitchen Cookbook $16.99 on Amazon For the foodie in your life. Looking for great recipes that aren't super heavy and can be eaten all year? I LOVE this cookbook. I just gifted it to my sister as well. The recipes are simple, pure, and taste amazing. Note, a lot of these recipes are vegetable-based which isn't necessarily why I bought it, but I find myself being drawn to meat-based dishes (love savory things) so this forced me to think outside the box. Delish!
8 // Mod Dot iPhone 5 BackUp Battery from Anthropology:  $38 Um, if this isn't the coolest thing ever, I'm not sure what is. A PORTABLE back-up battery for your iPhone. When juice is running low, just pop this bad boy in, and it can give your phone up to 50% charge like that. When it's done, plug it in again, and use it over and over. I know when I'm traveling there are times when I just can't find an outlet, so this would be a great alternative for when I'm in a pinch.
9 // Instagram-Friendly Book from Artifact Uprising: $16.99 for the 5×5″, 4o pages If there's one thing in this life that I'm full supporter of, it's capturing, storing, and revisiting memories. Life is so dang short my friends, and we let work, demanding social expectations, and deadlines get the better of us. And that little techy phone you have in your pocket I'm sure gets more attention than anything else, am I right? I know of a ton of people who take millions of photos but never DO anything with them. Artifact Uprising has done an amazing job of getting your photos "off your device and into your life" with very well-designed books & prints. Why not make a book of your most recent trip? Take all those iPhone photos you have of you and your girl, or you and your friends, or you and your parents (you KNOW they would love that) and make something tangible? Best. Gift. Ever.