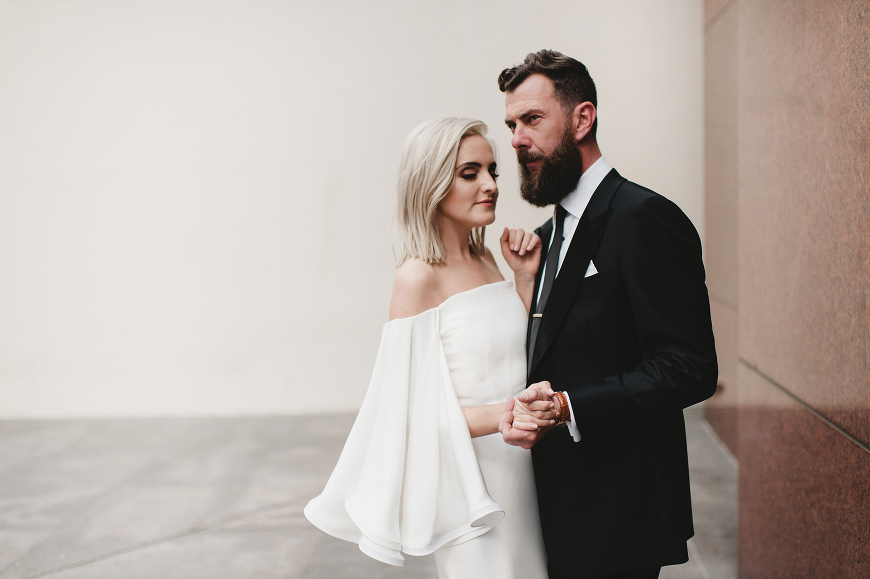 I've been an eager beaver for this one. A tinder date that turned into one of the best matches one can imagine. Two of the most stylish people I've shot. Enough greenery and candles one set of eyeballs can handle. Just an overall rad wedding. I am SO pumped to share this one.
When this inquiry first came through (via wedding planner extraordinaire, Courtney) I didn't really know what to make of it — these people seemed WAY to cool for me. Like light years cooler. Like they're the slick leather jacket while I'm the squeaky yellow rain coat. I mean, Patrick is a badass photographer, and Sarah owns, runs, & designs her own swimwear line. No pressure, right? After the hand-shaking nerves and severe nausea subsided, I learned that it was a match made in photography heaven….and the cherry on top? They're two of the most loving souls. Just genuinely kind, fun, beautiful people. I knew this was true when I learned that one of the first times the bride's brother got to meet Patrick, he had invited him over to pack up brown paper lunch sacks with sandwiches to hand out to the homeless in LA. What?!
We trotted around downtown Los Angeles in her amazing gown (lookin' at you brides, you CAN pull this off), her KILLER shoes, his tailored suit, into the nooks & crannies of that crazy town. I will forever love these two, their families & friends, and this day.
Huge shout outs to the team that made this day possible, especially Courtney of The Joy Parade, who recommended me to begin with, my great second shooter, Lisa Lupo, and the amazing vendor team that beautified this downtown LA gem (all of their names + sites are listed below). Also a giant virtual hug to White Magazine for running this beauty on their blog. Forever grateful!
To Sarah & Patrick: may you both enjoy endless years of happiness together. You two deserve it.
Venue: Alexandria Ballrooms
Planning & Coordination: The Joy Parade
Rentals: Circa Vintage Rentals
Florals: Of The Flowers
Dress: LOHO Bride // Houghton NYC
Hair & Make-up: Mallorie Mason
Cake: Gelateria Uli
Catering: Cocktail Concierge & Classy Parties Catering
Music: The Shrines (Dart Collective)
Lighting: Elevated Pulse