Thanksgiving is one of my all-time favorite holidays. Not only is it a great excuse to eat, watch football, eat, sleep, hang with family and eat some more, but it also occasionally falls ON our birthday. I say "our", because as many of you know I share my birthday with my twin <– yet another thing I'm thankful for! So yes, every three years, our birthday is either on Thanksgiving, the day before, or the day after…. So when the two of us get to combine family, friends, an overabundant dinner, cocktails, and a birthday celebration, it's hard not to be extremely grateful.
You may also know I have a certain affinity for moodboards….so when I saw Dwell Studio was hosting their annual "Modern Thanksgiving" challenge, I thought there was no better way to show what MY ideal celebration would entail. The rules were simple. Create a Pinterest board of your ideal Thanksgiving, including palettes, tablescapes, kitchen ware, guests, etc. using at least 3 items from Dwell Studio. I mean, how could I resist?
When you think about this holiday, it's always easy to think about giant, over-stuffed tables with cheesy gourd decor, however I wanted it to feel simple, refined, with of course a little bit of sparkle. I was instantly drawn to some of Dwell's etched bottles and gold drinking glasses. I also loved adding in small hints to a fox — he quickly became the mascot of this board. Let's just say I had a lot of fun doing this! You can check out my full Pinterest board here.
As this holiday quickly approaches…where the heck did time go?….I hope each of you get to enjoy time with family, friends, food, and find a little something (or a lot of something) to be thankful for. Cheers!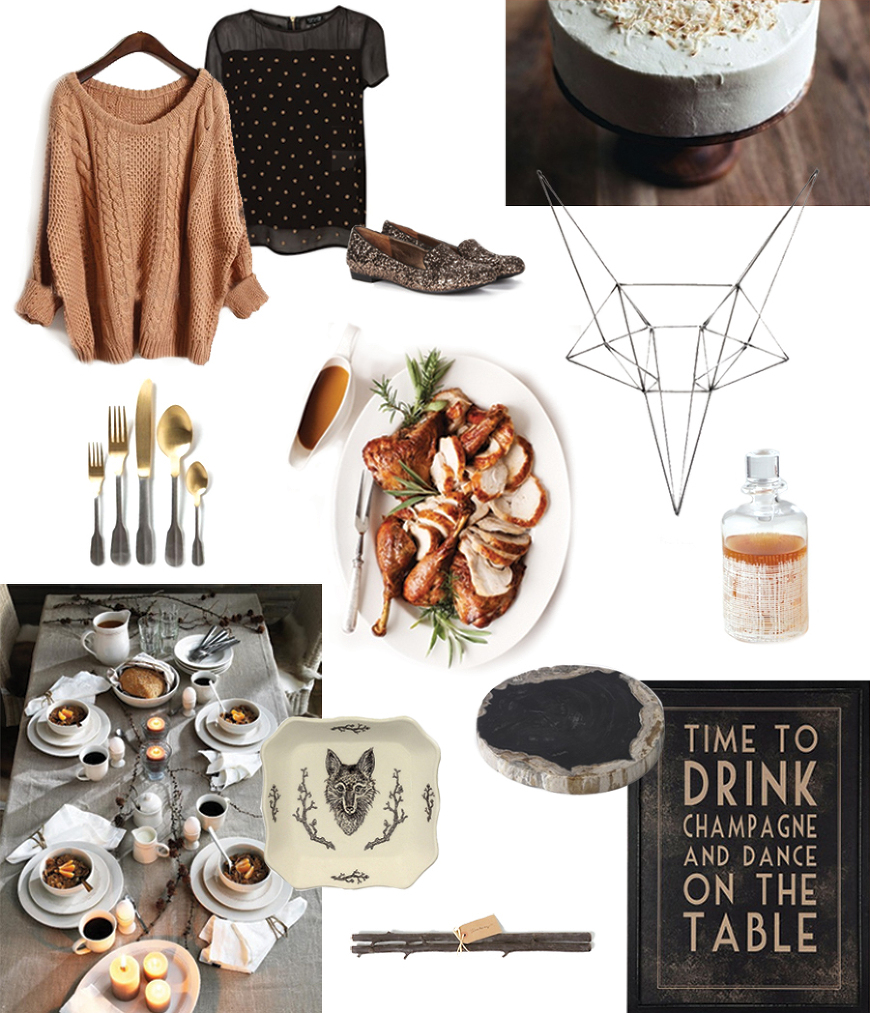 Comfy sweater, dot blouse, and sparkle shoes // A festive birthday cake (<–help me find the photographer!) // Gold-dipped Flatware // A delicious turkey recipe // An amazing steel fox sculpture  // An etched bottle // Simple, modern table setting // Fabulous Mr. Fox plate // A Dwell Studio cheese board // Fun signage (<–again, can't find the source!) // Stick Candles