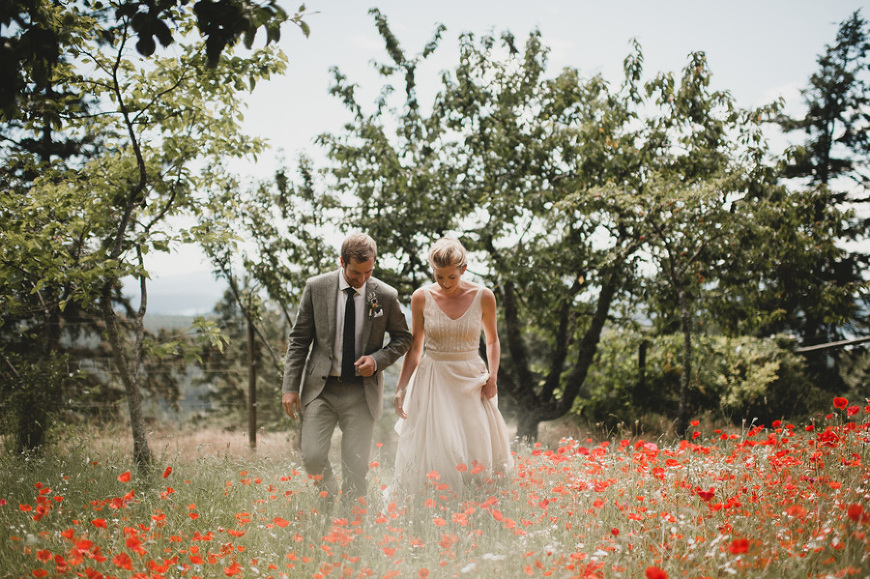 "Like, forest-y hobbit vibes".
Pretty much what sold me on Minnie's wedding when I asked her to describe what she was envisioning. And so, a hobbit-like, free-range, barefoot, oyster-shooting, whiskey-sipping summer solstice celebration began. I've been sitting on this guy for a while and I'm so excited to finally share Minnie & Marshall's wedding from this past June. The two met at a mutual friends potluck birthday celebration and instantly connected over their love of running — it's not surprise they've logged hundreds of miles running trails, mountains and the like.
The wedding took place at her childhood home on Orcas island, high up on a hill with a gorgeous view of the San Juans. Dogs, horses, and deer roamed the property, you woke up to grasshoppers buzzing and her family & friends busily working away to craft every inch of this wedding. It was a "it-takes-a-village" affair through and through, and not only that, the personal touches were my favorite. From the writing of their own vows, her mother sewing her wedding dress, her father planting hundreds of poppies for them to galavant through, all the way to the family singing a song during cocktail hour, her brother's band performed a version of Taylor Swifts "Wildest Dreams" for their first dance….it goes on and on.
Minnie & Marshall (and your amazing families) thank you for having me. Cheers to you a lifetime filled with family, friends, music, dogs, traveling, and running — lots of running. And a shout out to Seattle Met Bride & Groom for featuring this wedding in their latest issue.